Come join us for another Topanga Days Parade and bring all of your creative and last-minute ideas to add to our eclectic and vibrant line of canyon parade entries!
The parade will feature a team of Grand Marshals, The Topanga Trash Warriors, who work tirelessly to keep Highway 27 free of trash. You may see these outstanding community members on a weekend morning scattered from Viewridge to Town Center collecting everything from discarded bottles to furniture.
Their commitment to serve our community rain or shine and keep Topanga Canyon Boulevard Forever Scenic and beautiful, the Topanga Trash Warriors are the 2023 Topanga Days Parade Grand Marshals.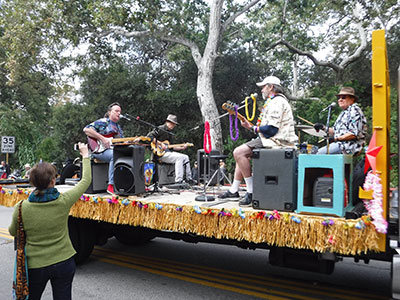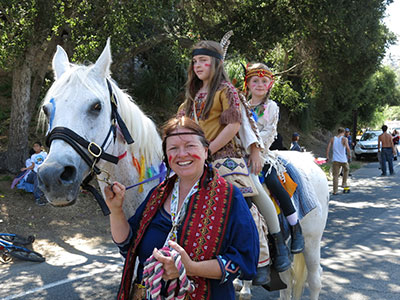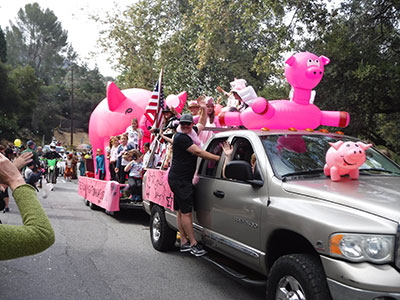 Parade starts at 8:30am Monday May 29th, 2023.
7:00 a.m. – Start line-up at Pine Tree Circle. 
7:45 a.m. – Judging begins 
8:20 a.m. – Winners announced 
8:30 a.m. – PARADE STARTS (ends about 10am, but then the party begins)
Setup for Parade
Entries use the South or traffic signal entrance to Pine Tree Circle Center.
First entries line up next to building to allow space in the middle of the parking lot.
Only parade entries are allowed in the parking lot. NO parking of support cars.
Along the Route!!!
Maintain 50 feet distance from entry in front of you.
No stopping in front of Topanga Community Center driveway, continue to Santa Maria Road.
Entries shall clear the streets at the end of the parade.
CHP is the final entry in the parade. Topanga Canyon Blvd. is open as CHP drives towards Topanga Community Center.
Participant Fees
$30 per float for families and individuals
$40 per float for non-profit organizations
$50 per float for businesses and awesome, generous parade loving supporters!
The Parade is limited to 50 participants: First come, first served. So SIGN UP SOON!
* you will be redirected to the secure site at https://secure.rec1.com/CA/topanga-community-center-ca/
Maintain the Parade Sponsorship: $500
As the costs to put on Topanga Days, the TCC's main fundraiser of the year, have almost doubled in many areas this year, the costs for putting on the parade are daunting as well, so the TCC is hoping that local businesses will continue to help Maintain the Parade with a $500 tax deductible donation. We hope that this tradition can continue so that our community's parade can always be a part of the Topanga Days weekend.
Your logo/name goes on a group banner on the TCC billboard with all of the parade sponsors who "Maintained the Parade"
Special mention in a local newspaper article
Your business name/ logo on our website
Two (2) free Topanga Days tickets
One (1) free TCC T-Shirts
* you will be redirected to the secure site at https://secure.rec1.com/CA/topanga-community-center-ca/
And a Big Thank You to Our
2023 Parade Sponsors
Thank you for stepping up to financially "Maintain the Parade" this year. The TCC is ever grateful to you all.
And Thank You to GATES SECURITY for donating personnel and equipment to make the parade an awesome event this year!
Adrian Wright and Jordan Wright of The Wright Way Team at COMPASS
Endless Color
Exposition Studios
Suncoast Mortgage
Topanga Living Café
William Preston Bowling, a Pritchett Rapf Realtor